How to Conduct a Virtual Client Conference
Introduction
Chances are that many of you have used ZOOM or other video conferencing software in the past, but it was not a regular part of your practice. If anything of a positive nature will come out of the Covid-19 crisis, it may be the normalization of video conferences for hearings, depositions, mediation, and client meetings. Whatever software you choose to use in your practice should be vetted for security and confidentiality. A client conference should be conducted with the same confidentiality safeguards via ZOOM as if held in your conference room.
Step by Step Guide to Setting up a Virtual Client Conference
Step 1 – Decide which Video Conferencing software you will use
Microsoft Teams is included as part of the Microsoft 365 (formerly Office 365) suite of applications (currently $5.00/user/month for Basic, $12.50/user/month for Business Standard)
Microsoft Teams has its own video conferencing tool and also integrates with other apps
Zoom Basic Service is free, but you are limited to 1:1 meetings and a 40 minute maximum time per meeting
Zoom Pro includes 1GB Cloud Reporting, unlimited group meetings, and you can host up to 100 participants (currently $149.90/year/license)
Zoom Business allows up to 300 participants and you can brand your company (currently $199.90/year/license)
Google Meet is included with the G Suite Essentials and is currently free, this is the upgraded version of Google Hangouts
Other options: Cisco Webex, BlueJeans, GoToMeeting, Skype for Business, Slack
Step 2 – Gather client Information with intake form or phone call to prep for a meeting as you normally do
Step 3 – If you charge for consultation, send a payment link to client with confirmation email
Step 4 – At least 2 days prior to meeting, send meeting invitation to all participants (be mindful of client confidentiality concerns when deciding who to include). Let your client know what meeting app you will be using and that they will need to either download the app ahead of time or plan to log in a few minutes prior to the scheduled time to have time to download the app
Step 5 – To schedule meeting through Zoom, open the App on your computer or other device and log in to your account
Step 6 – Click "Schedule" for a future meeting time or click "New Meeting" if you need to start a meeting immediately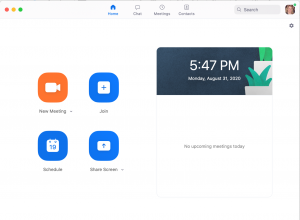 Step 7 – Name your meeting by entering information under "Topic", choose your start and end time, and choose to enable Video and Audio for the Host (You) and the Participants. If you have a paid subscription, a Meeting Password is required. If you will all be using a computer with a microphone and speakers, choose "Computer Audio" If you will be using your phone for the meeting, choose "Telephone" or just choose both if you are not sure. Be sure your time zone is set correctly.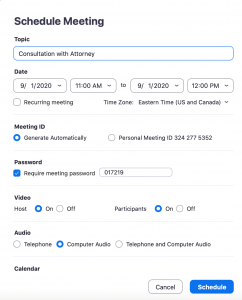 Step 8 – Choose what type of calendar you want to save the meeting to, in this case, I chose to send the meeting to my Outlook calendar
Step 9 – Under Advanced Options, you can enable a waiting room (useful for Mediations), record the meeting (useful for Depositions), but for a client consultation, these may not be necessary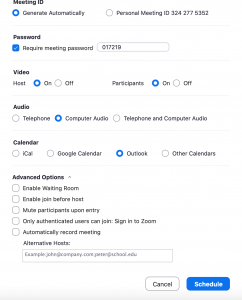 Step 10 – When you have chosen all your options, click "Schedule" and you will see this window pop up in your email software. Click "Invite" and then enter the email address or addresses that you will send the invitation to (example uses Outlook). You can see that Outlook also contains an integration with Zoom, so in a normal Calendar Invite, you have the option of opening Zoom and scheduling the meeting this way.

Step 11 – The Meeting link should now appear on your calendar and you should receive responses from your client(s) that they have accepted your invitation
Step 12 – Make sure to test your video camera and sound before the meeting time
Step 13 – You can always practice by clicking "New Meeting" in order to see how you appear on camera and make any necessary adjustments. Pay attention to your background, it should be professional and not a distraction. If you wear glasses, make sure there is no glare coming from your lenses. Adjust the height of your device so that you are looking directly into the camera or slightly up. You don't want to be looking down or sideways.
Step 14 – If you plan to share documents or photos with your client, practice using "Share Screen" ahead of time so you are comfortable with it.
Step 15 – When it is time to begin the meeting, you can just click on the link in your Calendar and it will again log you in to your meeting app and the meeting will begin. Log in a few minutes early to make sure you begin on time.
Step 16 – Conduct your consultation/meeting like you would if the client was in your office. Introduce yourself and put the client at ease, list the topic(s) for discussion and remind how long the meeting will last. Leave time for questions after you gather any information you need and present your proposal for representation, and wrap up the meeting on time.
Even though we can now fit more meetings into the day as you are done with the click of a button (no small talk walking the client out of the office), always leave time to upload your meeting notes, draft a consult summary, and set follow up tasks before you go into your next scheduled meeting.
---
About the Author(s)
Pamela Grace Martini, Esq. is a solo practitioner and owner of Law Office of Pamela G. Martini, PLLC in Orlando, Florida. She serves on The Florida Bar's Standing Committee on Technology and has presented on technology issues at the 2020 Elder Law Update. Attorney Martini focuses her practice on Elder Law, Estate Planning, Probate, and Guardianship and has a passion for working with families of individuals with special needs.
VIEWS AND CONCLUSIONS EXPRESSED IN ARTICLES HEREIN ARE THOSE OF THE AUTHORS AND NOT NECESSARILY THOSE OF FLORIDA BAR STAFF, OFFICIALS, OR BOARD OF GOVERNORS OF THE FLORIDA BAR.