The Florida Bar Launches Enhanced Lawyer Referral Service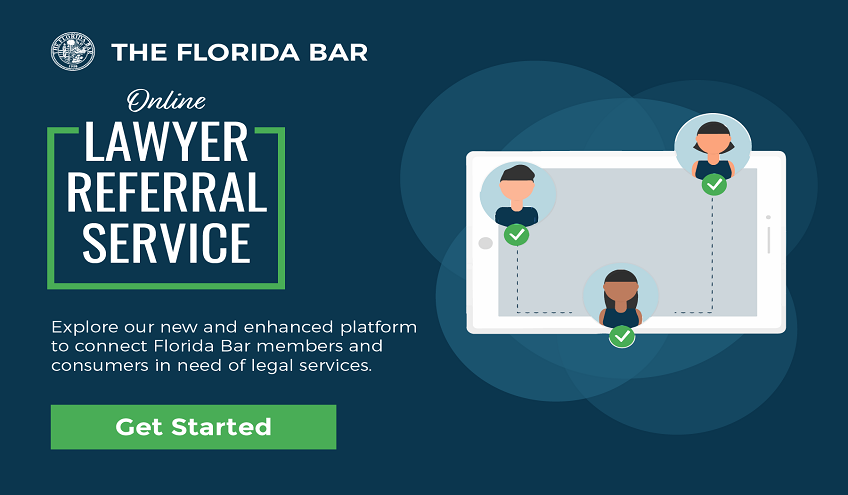 The Florida Bar has launched a newly-enhanced online Lawyer Referral Service (LRS) designed to provide the public with a modern, easy-to-navigate conduit to more than 600 Florida attorneys across 100+ practice areas. The service is free to use and can be accessed from a computer or mobile device. It utilizes artificial intelligence categorization to instantly match potential clients with the right lawyer for any legal situation.
The Florida Bar developed the enhanced platform in conjunction with legal technology company Legal.io to ensure that the needs and expectations of those seeking legal help during a rapidly-transforming digital age are met. Among the features included are the ability to filter attorneys by language(s) spoken, choosing up to four different practice areas, as well as easily and confidentially making contact information available for respective referrals.
Originally created in 1972, The Florida Bar Lawyer Referral Service makes more than 70,000 legal referrals annually, either directly through the Bar's service or by directing potential clients to their local bar referral services. Participating LRS attorneys have met specific membership criteria including being members in good standing and carrying malpractice insurance.
Users can begin their search for an attorney by visiting the website and submitting an online request where they are instructed to select the county where they need a lawyer, select the practice area that relates to their question, and provide their contact information. Links to local bar association lawyer referral services are provided to those living outside The Florida Bar's coverage area.
Please visit The Florida Bar Lawyer Referral Service at lrs.floridabar.org to get matched with a lawyer.
---
* Consultation fees apply. Participating LRS attorneys agree to provide a half-hour office consultation to the client for no more than $25.00.