---
How to Rename Yourself on Zoom
Step 1: From the Zoom Room click on the "Participants" icon at the bottom of the window.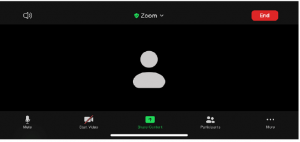 Step 2: A Participants window will appear. Look for your name and click the "Rename" button.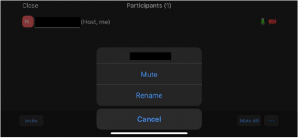 Step 3: Enter your new name in the "Rename" field.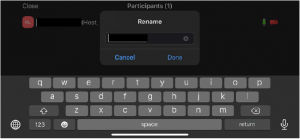 Step 4: After clicking the "Done" button, your new name will appear.
---
Video and Audio – Same Device / Different Device
Anytime you are joining a Zoom meeting from a new device it's always good to check your audio. Different phones and computers come with a variety of different microphones, some which are better than others. To avoid issues, the best practice is to keep a pair of headphones with a built in microphone close to your work space and use those same headphones whenever you take a video call.
---
How to Mute and Unmute on Zoom
Step 1: From the Zoom control panel click on the "Microphone" icon at the bottom of the window.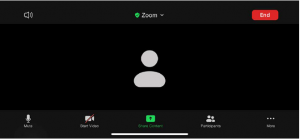 Step 2: After clicking the "Microphone" button, you are now muted.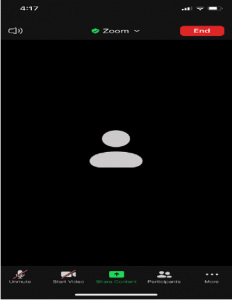 Step 3: To unmute, click the "Microphone" button, you are now unmuted.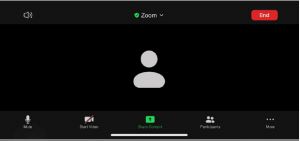 ---
Turning Video On and Off
By default, your video will be on or off.
If your video is off, you will see the this icon at the bottom of your Zoom app:

.
If your video is on, you will see this icon at the bottom of your Zoom app:

To change the default video settings as a guest, check the "Turn off my video" box before joining the meeting.

To change the default video setting as an account holder, log into the Zoom app on your device. Once logged into the app, click on the settings button that looks like a gear. After clicking on the settings button, you will see a list of Zoom settings. Click on the Video button and then scroll down. After scrolling down you will see an option that says "Turn my video off when joining a meeting." Click the box to activate this option.

---
Lighting
Web cameras naturally record and adjust to the brightest source of light. This is why it is important to make sure your light source is in front of you and not behind you. If your light is behind you, you will appear dark. Prior to taking a video call, turn your video camera on and test out all the lighting possibilities.
General Tips
Try moving the light closer to your face to see which position is most flattering
Use the "three-point lighting technique"
Use multiple light sources and place them at different angles
Natural Lighting Tips
When setting up your space for video calls, place your video camera in front of a window
Make sure your video camera is in a well lit room
Make sure the windows are not behind your camera
Other Lighting:
Turn the brightness up on your computer to help brighten your face
Open up a white word document or other documents to help brighten your face
Purchase a ring light
Purchase "daylight" light bulbs (avoid yellow lamplights)
---
Profile Picture
To edit your Zoom profile picture, you first must have a Zoom account.
If you already have a Zoom account, go to Zoom.us on your internet browsers and log into your account.
Once logged in, click on Profile and then click on Change next to your name and under the temporary picture.
After clicking on Change, click Upload, then locate and select the picture you would like to use as your profile picture and then click Save


---
Double Check the Type of Background You Want to Use for That Meeting.
By default, Zoom will show you and the room around you through a video call. If you would like to add a virtual background, check out LegalFuel's article: How to Create A Virtual Background in Zoom to ensure that you have the professional background you're looking for.
Additional Resources
Zoom Support Quick start guide for new users
Zoom Support Articles on Attendee controls in a meeting
---
About the Author(s)
Eli Mattern, Esq. is the CEO and General Counsel for SavvySuit, a software company in Orlando. She serves on the The Florida Bar's Committee on Technology and the Self-Represented Litigant Network workgroup on Justice Tech. She's a former legal aid attorney, and avid believer in pro bono service. Find her on Twitter @SarahEliMattern.
Bruce Rosenberg, Partner at Rosenberg Law, P.A., has been a litigator for 30 years in the areas of healthcare and business law