4 Effective Content Campaigns for Small Law Firms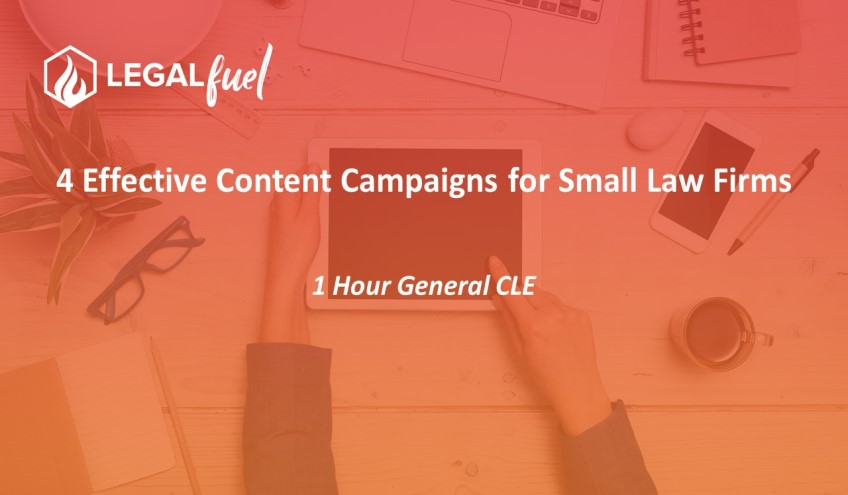 Course Number
4159
CLE
Approved for 1.0 hour of General CLE Credit
Description
Low-cost ways to improve the results you are receiving from your current marketing efforts
Lawyers don't need to invent new digital marketing tactics; they simply need to catch up to the rest of the online marketers outside law and adopt what has already proven to work.
Most small law firms lag so far behind with their marketing that if you employ what have become standard inbound marketing techniques you will vault ahead of your competitors and increase your flow of qualified leads and new clients.
The beauty of inbound marketing is that you create campaigns one time and they deliver leads and clients for years. During this session, we walk you through the 4 most important campaigns to set up at your firm. We provide start-to-finish examples for multiple specialties, and show you exactly how they work.
In this webinar, we'll deep dive into the campaigns you should have in place at your firm. Most of them you can write once and let run automatically.
You will learn how to:
Generate more prospects
Waste less time talking to unqualified prospects
Convert more prospects to clients
Impress your new clients
Stay memorable and referrable with past clients
RESOURCES
Slides – 4 Effective Content Campaigns for Small Law Firms
SPEAKER BIO
Kara Prior is the co-founder of the Marketing Amplifier system and president of James Publishing. She spends most of her time talking to attorneys about how to materially improve their marketing results. Kara is co-author of the 145-page book How Small Law Firms Can Obtain More Referrals. She is the mother of two young boys, and was captain of her Division 1 college swim team.
---
You must report your completed courses online using the course number referenced above.
Post CLE Credits