How to Stay Happy & Healthy During COVID & 2020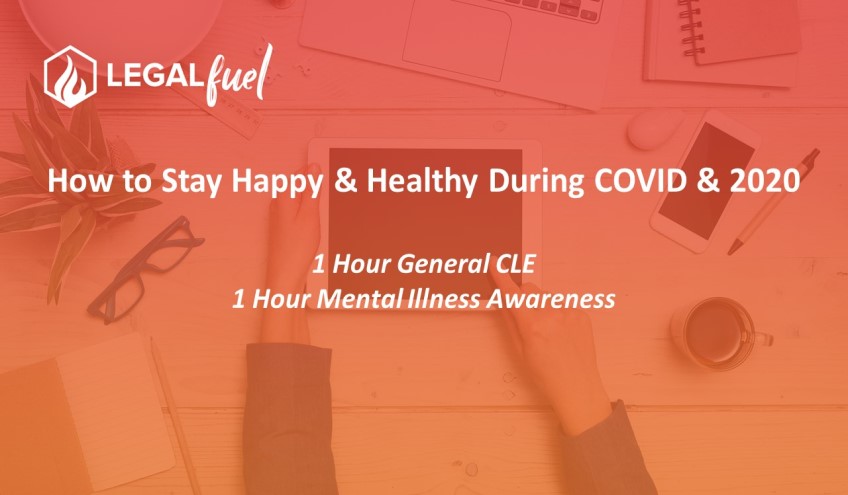 Course Number
4176
CLE
Approved for 1.0 hours of General CLE Credit and 1.0 hours of Mental Illness Awareness.
Description
It hasn't been easy to keep spirits up this year. Between the uncertainty of Covid-19, the isolation of the lockdown, civil unrest, and a bitter presidential election, depression is a serious risk. Lawyers, according to numerous studies, are already at a higher-than-normal risk for depression.
In this webinar, we will discuss wellness techniques to help maintain a positive focus so you can serve your clients and practice to the best of your ability.
Learning Objectives
Come away from the webinar with actionable items to improve mental health.
Understand how to model an uncertain and complex world and how to thrive in it.
Learn strategies for dealing with stress and increasing happiness.
SPEAKER BIO
Larry Port is the founder and CEO of Rocket Matter, the leading cloud-based legal practice management software. Larry is also a speaker and award-winning writer at the crossroads of the legal profession and cutting-edge technology. His book, The Lean Law Firm: Run Your Firm Like the World's Most Profitable and Efficient Businesses, was recently published by the American Bar Association. Larry frequently discusses design and efficiency as well as quality techniques in the software industry that can be leveraged by lawyers and other legal professionals. Larry was also named to the Fastcase 50 honoring the law's smartest, most courageous innovators, techies, visionaries, and leaders.
---
You must report your completed courses online using the course number referenced above.
Post CLE Credits