Improve Your Microsoft Word Skills
Guest post by Lawyerist.com
Your law firm probably uses Microsoft Word every single day for critical business work. And while your repeated use probably makes you think "practice makes perfect," your repetition of inefficient habits has real costs in time and subscription dollars.
Unfortunately for all of us, you don't become an expert by using Word daily. Instead, future Word gurus have to dig deep and discover what the software can truly do for their firm and its productivity. Luckily, there are countless resources available to help you unlock the powerful tool at your fingertips. A mere sampling:
Want a few quick wins to make you feel like the Microsoft Word ninja you know you can be? Keep reading to find Microsoft Word tips you can begin using today.
Use Quick Parts for Simple Document Creation
Documents you create in Word for your firm often have the same elements, like names, addresses, or standard contract clauses. Word allows you to use their "Quick Parts" function to save these elements for use later.
To create a Quick Part, follow these steps:
Highlight the element you wish to save
Navigate to the "Insert" tab
Choose "Quick Parts"
Select "Save Selection to Quick Part gallery"

Once you've created a Quick Part element, you can insert that element wherever you need it, on any document you create. You can also use Quick Parts to create templates for documents you use frequently.
Create Easy Referencing With Line Numbering
When drafting legal documents, line numbering can be useful for referencing. But you may notice that when you use the simple paragraph numbering function in the software, Word automatically places indentations where you may not want them.
Avoid wonky formatting by using the "Line Numbers" function, which you can find under the "Layout" tab. This function places line numbers in the margin for each line of text, sans auto-formatting.

Don't want the entire document numbered? No problem! You can customize where you want to see the numbers directly from the Line Numbers drop-down box.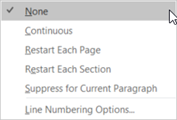 Insert a Watermark
For several reasons, you should watermark all your draft documents, especially when you share those documents with others. To watermark a document, navigate to the "Design" tab. Then use the Watermark drop-down menu to place a gray, large watermark on your document quickly and simply. You can choose from a few different options, such as "Draft" or "Confidential."

These three ideas are just a sampling of Word's incredible power. We encourage you to dive deep into your technology tools to learn where they can make your life better. Sure it takes some time and curiosity on the front end, but the productivity gains on the back end will provide immediate returns on your investment and help you stop wasting time and those valuable Microsoft subscription dollars.
Want to Improve Your Business, Too?
When it comes to making improvements to your business, improving at using Microsoft Word is just the beginning. To find out where your firm could use improvement, take Lawyerist's free Small Firm Scorecard assessment today. It's a self-guided assessment designed to assess your strengths and weaknesses, with the aim of helping you position your firm for success in the future.