Microsoft 365: A Crash Course on Excel for Legal Professionals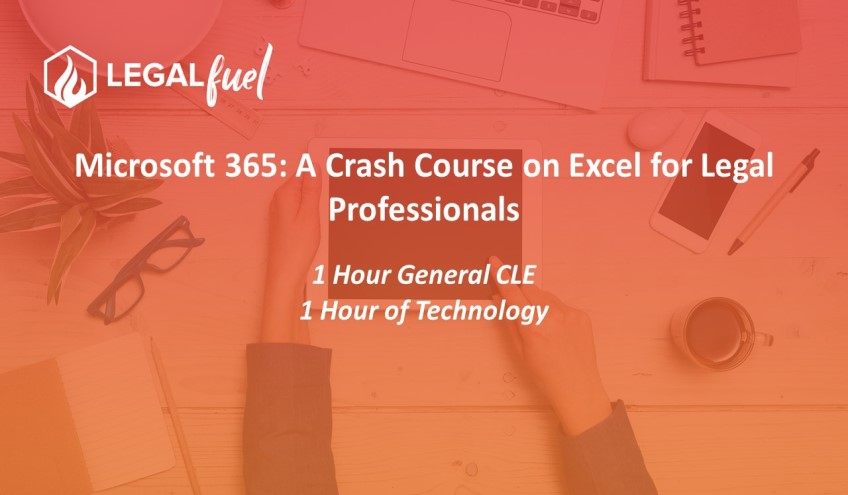 Course Number
4657
CLE
Approved for 1.0 hours of General CLE Credit including 1.0 hours of Technology.
Description
As familiar as legal professionals are with Word, they can be just as confused or intimidated by Excel. But Excel proficiency isn't too tough – you just need exposure to the right people to show you the most important functions.
Competency in Excel makes you a more efficient lawyer with the ability to provide better client service, especially involving any insight into any aspect of their representation involving numbers. Moreover, Excel is a fundamental business tool that can help you take your firm to the next level.
Learning Objectives:
Understand the basic core functionality of Excel and how to navigate the program.
Learn best practices in how to build a proper spreadsheet to keep your work organized.
Discover what you can do with cell references and basic math functions like averaging and finding min and max values.
Take a preview at more advanced functionality that can really help you, like lookup tables and conditional expressions.
RESOURCES
SPEAKER BIO
Larry Port is the CEO of Rocket Matter, a leading legal cloud-based practice management and time and billing application. He is a speaker and award-winning writer at the crossroads of the legal profession, cutting edge technology, and business management. His experience running a technology company and insight into law firm operations led to his co-authoring of the #1 bestselling ABA book The Lean Law Firm.
---
You must report your completed courses online using the course number referenced above.
Post CLE Credits