Technology and the Legal Profession | A Fireside Chat with Jack Newton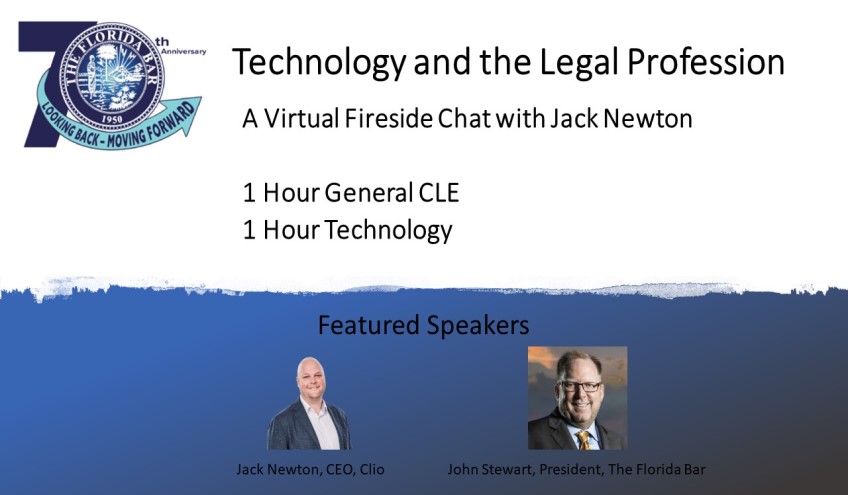 Course Number
3370
CLE
Approved for 1.0 hours of General CLE Credit and 1.0 hours of Technology
Description
John Stewart, President of The Florida Bar, hosts Jack Newton, CEO and Co-founder of Clio, for a fireside chat. The presentation is part of The Florida Bar's 70th Annual Florida Bar Convention, which will be held VIRTUALLY over the dates of June 15-19, 2020. The chat will focus on the mass migration to cloud-based legal technology in 2020, how legal technology can facilitate the provision of legal services, and what's in store for the profession as we look to the future.
Resources
Clio's COVID-19 Impact Research
The Client Centered Law Firm
Clio Cloud Conference 2020
Guide: Why Law Firms Are Moving to the Cloud
A Rundown on Clio's Security Protocols and Infrastructure
SPEAKER BIO
As the CEO and Co-founder of Clio and a pioneer in cloud-based legal technology, Jack Newton has spearheaded efforts to educate the legal community on the security, ethics, and privacy issues surrounding cloud computing, and has become a nationally recognized writer and speaker on these topics. He co-founded and is President of the Legal Cloud Computing Association (LCCA), a consortium of leading cloud computing providers with a mandate to help accelerate the adoption of cloud computing in the legal industry, and is the author of The Client-Centered Law Firm, a bestseller that's helping law firms thrive in today's experience-driven era.
Jack has been recognized as EY's Entrepreneur of the Year, and Clio has been recognized by many national and international awards for its culture, management, customer support and rapid growth rate, including Deloitte's Best Managed Companies, Deloitte's Technology Fast 50, and Canada's Most Admired Corporate Cultures. He was also named a 2019 Fellow to the College of Law Practice Management, sits on the board of ROSS Intelligence, an AI-powered legal research provider, and is an investor and advisor to early-stage legal tech startups.
---
You must report your completed courses online using the course number referenced above.
Post CLE Credits