LegalFuel Speaker Series: Enhanced Results through Effective Communication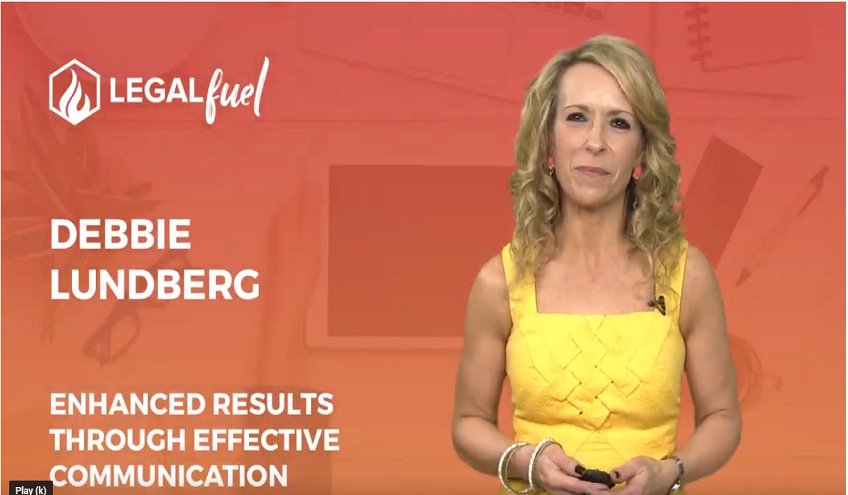 Course Number
3243
CLE
Approved for 1.0 hours of General CLE Credit.
Speaker
Debbie Lundberg
Description
Session Goal: Consider & embrace how effective communicating, rather than telling or "lawyering", has a positive impact on relationships and results!
Consideration: Whether or not you believe you communicate for a living, being a lawyer is about people, emotions, communication, and results. Sometimes the idea sharing ideas and being engaged and engaging while be effective in sharing expertise, can be daunting and even difficult. The guiding principles shared in Enhanced Results through Effective Communication are for attaining desired results, responses from colleagues, clients and others while building lasting relationships!
Session Overview: The tips, and therefore, the session, do not represent a claim of knowing everything about communication as a lawyer, rather it is an offer of insights and ideas for confidently being an effective communicator in the office, around the community and in the courtroom, as communication that works fits most situations! The ideas presented in the session are based on many years of observing, practicing, and engaging with others throughout The United States of America, as well as some humble observations from the instructor's personal and business interactions. And, in this small and mighty approach to simplifying communication, you will find the reasoning and anticipated results from tweaks and small changes instead of major overhauling. During the session, examples, followed by idea-sharing, will take place for implementation and considerations of how to effectively engage and use the tools quickly, with confidence, and often in daily interactions.
Course Agenda:
Defining Communication
Sharing Reasons
Exploring Drivers
Communicating in Difficulty
Post-session Skills Gained:
Considering other's interests and motivations before communicating effectively with/for them
Utilizing reasons for engagement and advancement of ideas in the least amount of time
Hosting disagreements without offense
Providing and accepting feedback professionally
---
You must report your completed courses online using the course number referenced above.
Post CLE Credits