March 25, 2019 |
All Finance Topics
,
All Manage Your Practice Topics
,
All Marketing Topics
,
All Start a Law Firm Topics
,
All Technology Topics
,
Corporate Structure
,
Ethics
,
Finance
,
Free CLE
,
Hiring Staff
,
Marketing
,
New Business Development
,
Office Space
,
Speaker Series
,
Trust Accounting
LegalFuel Speaker Series: Making the Jump: A Step-By-Step Guide On How to Launch Your Law Firm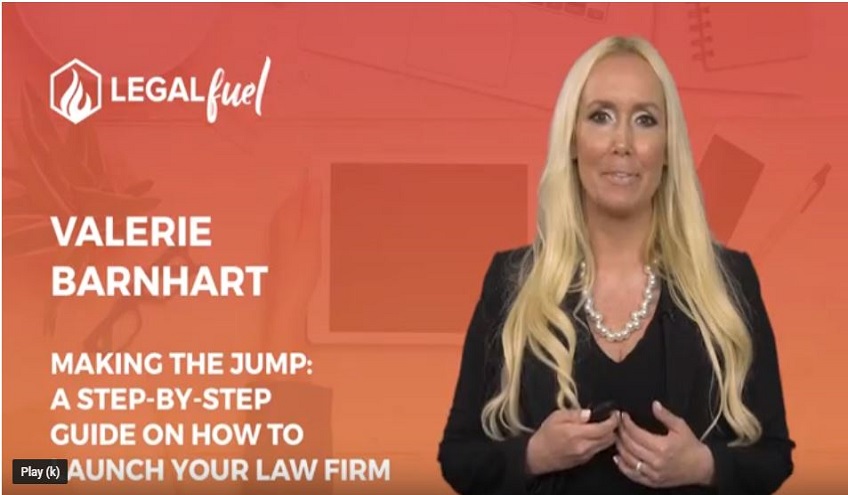 Course Number
3248
CLE
Approved for 1 hour of General CLE Credit, 0.5 hours of Ethics, and 0.5 hours of Technology.
Speaker
Valerie Barnhart, esq.
Description
Many attorneys dream of opening their own practice, but don't necessarily know where to begin. This seminar will walk through some of the steps needed to start – from choosing a professional entity to practice under and finding the right type of location, to hiring good office staff and making sure your technology is secure. Any attorney who watches this seminar will gain a better understanding of: the pros and cons of each professional entity option, including PLLC, PA, and partnerships; the unexpected charges to be aware of when signing a rental or lease agreement for your new office; finding and hiring the right staff; your ethical obligation to maintain competence with technology; Florida Bar Rules governing trust accounts; the issues to be aware of when advising or soliciting clients; and much more!
Course Agenda
Choosing an Entity
Office Space
Staffing Your Law Firm
Marketing Your Law Firm
Trust Accounting
Technology for your Firm
Key Takeaways
Resources
Slides – Making the Jump: A Step-By-Step Guide On How to Launch Your Law Firm
---
You must report your completed courses online using the course number referenced above.
Post CLE Credits