Fraudulent Email Alert – July 25, 2017
The Florida Bar warns its members that fraudulent emails regarding unpaid invoices are being distributed. We advise members not to click on any links or attachments contained within the emails and to permanently delete them immediately. You should also notify your IT department as soon as possible. We suspect that these emails contain malicious software.
The fraudulent emails are purportedly signed by Florida Bar staff or members, and they direct members to pay an outstanding invoice by clicking on the link or attachment provided.
If you have questions about outstanding invoices or payments due, please call The Florida Bar's Finance Department/Cash Receipts & Registrations at 1-800-342-8060, ext. 5831, or e-mail registrations@floridabar.org. If you have questions about annual fees, please contact the Membership Records Dept. at 800-342-8060, ext. 5832, or e-mail at memberaddress@flabar.org.
FRAUDULENT EMAIL SAMPLES: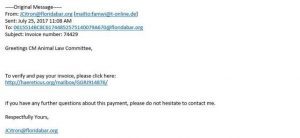 VIEWS AND CONCLUSIONS EXPRESSED IN ARTICLES HEREIN ARE THOSE OF THE AUTHORS AND NOT NECESSARILY THOSE OF FLORIDA BAR STAFF, OFFICIALS, OR BOARD OF GOVERNORS OF THE FLORIDA BAR.